news
We would like to thank all our buyers and under bidders for their support at the 2018 Western Downs Santa Sale. We sold 17/18 to average $5941. 
We look forward to seeing you all at the 2019 Sale!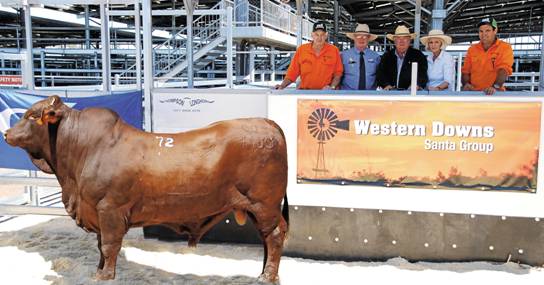 Triple S Meataxe M60 sold for $21,000 to Jan Clark, Mantuan Downs Springsure pictured with John Robbins, Harvey Weyman-Jonesplus Bert and Jason Bruggemann.
2017_western_downs_catalogue_web
  Triple S Jedi Warrior J50 placed 6th and Triple S Jackknife J44 placed 7th in the 22-24 months class of 19 bulls at the Ekka in 2014.  The class was judged by international judge Mr Willie de Jager from South Africa. This follows on from their placing at the Taroom Show in May 2014 of 3rd and 4th in the Junior Bulls Tropical Breeds Class of 18 bulls. Triple S Jedi Warrior J50 also placed 2nd in his class to the reserve champion overall bull at the National Junior Santa Show in Warwick in January 2014.